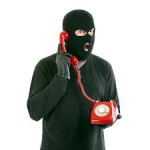 Some of our clients have received phone calls from a group of very aggressive phone scammers, posing as IRS agents. These scammers tell their potential victims that they owe large amounts in  back taxes and must be paid right away, in cash, or the police will be arriving at their home that day. Demands for cash payments are made, and other threats, such as losing drivers licenses or having utilities shut off  have been made.  Sometimes the scammers tell their marks they have a large refund coming if they divulge their social security numbers or other personal information.
Please be aware that the IRS always sends taxpayers written notification of any taxes due, and they never ask for any cash, a credit card, or debit card info over the phone.  The IRS never initiates contact with taxpayers by email to request personal or financial information, such as PINS or passwords. If you get such an email, you should not open it and forward it to [email protected]  Other aspects of this scam include follow up phone calls by other scammers pretending to be from the police or DMV, supporting the IRS scammers claims.
If you think you have been targeted by scammers posing as IRS agents, please call the Treasury Inspector General for Tax Administration at 1.800.366.4484.  For more information about this  click here.