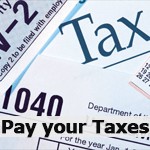 Several of our clients have asked if they can electronically pay their tax bills, and the answer is yes! Individuals can pay their federal income tax and estimated tax payments online at the IRS.gov website. At the IRS.gov site, click on the "Payments" tab a the top, then go "Direct pay" and follow the instructions. Individuals do not need to enroll in the Electronic Federal Tax payment System (EFTPS) to use Direct Pay. Click here for more info.
Business taxes cannot be paid via Direct Pay. Businesses should use the EFTPS to pay their taxes online.
State of Maine taxes can also be paid online using the Maine Revenue Service "E-Z Pay." You will need to be an established tax payer with Maine Revenue Service and will need to register with a user name and password. Click here for more info.