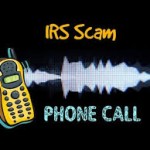 We have received several calls from clients who have been called by "IRS Phone Scammers." These scammers may claim to be "Officer Jennifer So and So," and have a heavy accent. The caller tells the person that he/she owes money for taxes and makes veiled threats if they don't pay up.
Please be aware that this is a SCAM!!! Taxpayers should know that the IRS does NOT make first contact with taxpayers by phone; letters (or several) are always sent.
The IRS will never:
1.    Call you about taxes you owe without first mailing you an official notice.
2. Demand that you pay taxes without giving you the chance to question or appeal the amount they say you owe.
3. Require you to use a certain payment method for your taxes, such as a prepaid debit card.
4. Ask for credit or debit card numbers over the phone.
5. Threaten to bring in local police or other law-enforcement to have you arrested for not paying.
If you receive such a phone call, please hang up immediately. You can contact the Treasury Inspector General for Tax Administration at 1-800-366-4484 to make a report, or you can file a complaint using the FTC Complaint Assistant, and choose "Other" and then "Imposter Scams."
For more information, click here.